RESILIENT UTAH SHIELD AWARDS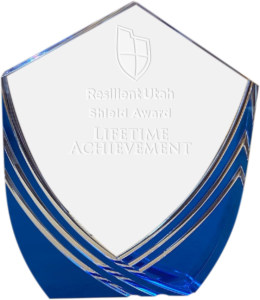 Resilient Utah Shield Awards are presented to select exemplary individuals who have set extraordinary examples of building resilience and spreading hope throughout the world. In 2020, our Resilient Utah awards were presented by the state-wide program Resilient Utah. The prestigious awards are announced during the annual "Hope for the Holidays" CBS weekend primetime television event on KUTV Channel 2 in December, before Christmas.  Award recipients are able to present a "message of hope" to viewers during the Christmas special.    
The 2020 Resilient Utah Shield Awards were presented to the following:
Gail Miller - Lifetime Achievement
Gail Miller is the owner of the Larry H. Miller Group of Companies and Chairman of the Board of Directors of Larry H. Miller Management Corporation.
The Larry H. Miller Group began with the purchase of a single Toyota dealership in 1979 and has grown to nearly 80 businesses, including over 60 automotive dealerships, the Salt Lake Bees, theatre complexes, and a variety of insurance, financial and real estate companies. Gail continues a strong legacy of enriching lives and giving back to the community. She presides over the Larry H. Miller Education Foundation and the Larry H. and Gail Miller Family Foundation, which support a wide range of charitable, educational, and humanitarian causes.
Gail gives freely of her time and is actively involved in many other business, civic and educational endeavors. Gail serves on numerous boards and councils including the President's Campaign Senior Advisory Council at the University of Utah, the President's Leadership Council at Brigham Young University and she is chairman of Intermountain Healthcare's Board of Trustees. She is a member of the Shelter the Homeless Board, and the Gail Miller Resource Center for homeless men and women bears her name. Author of Courage to be You: Inspiring Lessons from an Unexpected Journey, Gail has been recognized with many public honors, including  Salt Lake Chamber's highest award "A Giant in Our City," as well as the internationally-recognized ATHENA Award.
A. Scott Anderson - Exemplary Leader
A. Scott Anderson,  the president and chief executive officer of Zions First National Bank. Zions Bank is Utah's oldest financial institution and operates 122 branches in Utah, Idaho and Jackson, Wyoming. Zions Bank is also a leader in small business lending and has ranked as the No. 1 lender of U.S. Small Business Administration 7(a) loans for the past 27 consecutive years. Founded in 1873, Zions Bank has been serving the communities of Utah for more than 145 years. A native of Salt Lake City, Scott Anderson joined Zions Bank in December of 1991 as executive vice president of Retail Banking. In this position he was responsible for the growth and operation of the bank's branch network throughout Utah and Idaho, as well as overseeing other consumer and small business banking activities. He assumed his current responsibilities as president and CEO of Zions Bank on in January 1998. A leader in the financial services industry, Scott Anderson is currently serving as chairman-elect of the American Bankers Association. He also serves on numerous board of directors, including Intermountain Healthcare, Americans for the Arts Business Committee for the Arts, World Trade Center Utah and Days of '47 Rodeo. A leader in the financial services industry, Anderson is currently serving as chairman-elect of the American Bankers Association. He previously served as chairman of the Utah Banker's Association board of directors.
Pamela J. Atkinson - Champion of Hope
Pamela works directly with homeless families and individuals, Refugees, and low-income people. She assists people in finding opportunities to volunteer in a variety of settings and in collecting bedding, clothing, food and other essentials for families who are making the transition from homelessness to having homes of their own.  She also explores ways to prevent homelessness and build resilience.  Additionally, Pamela likes to work with women who are single parents trying to get off welfare and advocates for children wherever and whenever there is a need. Pamela has a strong belief that education is the way out of poverty and that mentoring children and their parents helps to prevent intergenerational poverty. Additionally, Pamela strongly believes that we should never underestimate the powerful impact on people from even a small amount of giving and caring! She has 3 children and 10 grandchildren.
José V. Borjón - Community Advocate
Since June 16, 2007 José Borjón has been the Head Consul of Mexico for Utah and western Wyoming.  He is a career Mexican diplomat with the rank of Minister, and has been representing his country, its interests, and its people abroad for the last 20 years. Before arriving to Utah, he worked in the Mexico City offices of the Ministry of Foreign Affairs, in the Protocol Division. He also was Deputy Director General for the Southern Border in the Latin America and the Caribbean Division.  He has served in the Mexican Embassy in Washington, DC, the General Consulate of Mexico in Houston, and the Embassy of Mexico in Korea He is joined in Utah by his wife and their three daughters.
Dan is founder and CEO of a international communications firm; High Performance Business Coach;  University Professor;  Alumnus of the University of Utah;  Podcast Host;  Gold Record Songwriter;  Screen Writer;  Award Winning Athlete, and a New York Times Best Selling Author. He was inducted into the National Speakers Hall of Fame in 2005 – and named one of the Top Ten Motivational Speakers In The World. As a master storyteller, Dan has spoken to more than 6000 audiences, 6 million people,  in 71 countries,  on 6 continents.  He has been published in more than 50 million books in 50 languages worldwide, and has appeared on over 500 television and radio shows. Though known throughout the world, Dan calls Utah his home.  He is dedicated to using his skills and talents to inspiring others, lifting spirits and giving hope to everyone he meets.
The Utah Suicide Prevention Coalition
The Utah Suicide Prevention Coalition,  a partnership of service providers, prevention professionals, researchers, suicide survivors, and others dedicated to saving lives and advancing suicide prevention efforts in Utah. The coalition, in collaboration with the Utah State Legislature and many private donors, has founded Live On Utah. Live On is a statewide effort to prevent suicide by promoting education, providing resources, and changing our culture around suicide and mental health.